Dental Implants in Issaquah, WA
We understand that tooth loss is probably one of the most upsetting situations that can happen to someone's smile; however, we are happy to let our patients know that there are amazing options these days that can easily restore and rebuild their smiles so they can feel confident once again. Here at our Issaquah, WA, practice, our dentist Dr. Neda Goharkhay provides her patients with dental implants, the next best thing to real teeth!


Implants Function Like Real Teeth


Dental implants are artificial tooth roots that are placed within the jawbone to support a false tooth. Implants are the only tooth replacement that is surgically placed into the jawbone, where they meld together permanently with bone and tissue. Once the implant becomes part of the jawbone, it can remain there the rest of your life. It's the closest you'll come to having a natural tooth again.


Preserve Your Natural Smile


Another issue that can occur when tooth loss is left untreated is that the rest of your natural teeth will begin to move into the open gap or gaps in your smile. As you might imagine, this can lead to crookedness, unevenness, and even crowding. Once this happens, the only way to realign your smile is with braces. Luckily, by placing a dental implant not long after tooth loss, we can prevent the rest of your smile from being affected.


Preserve Bone Health with Implants


A serious complication of tooth loss is jawbone loss. This occurs because the missing tooth is no longer providing the jawbone with the stimulation it needs to stay healthy. As a result, the jawbone begins to break down, which also negatively impacts the shape of your face. The only way to prevent jawbone deterioration is to place a dental implant, which functions just like real tooth roots to provide the stimulation your jawbone needs to remain intact and healthy.


Restore Full Function into Your Smile


Trying to chew certain foods when you have one or more missing teeth can be quite a hassle. Fortunately, dental implants function just like real teeth, once it's permanently in place, it will make it significantly easier to eat any foods you love. Tooth loss can also affect speech, leading to issues such as a lisp. Fortunately, filling gaps in your smile with implants can make it much easier to speak.


If you are dealing with tooth loss and want to find out if dental implants are right for you,
then simply call Sammamish Dental Center in Issaquah, WA, at (425) 369-9100 to schedule a no-risk consultation with Dr. Goharkhay and her esteemed staff!
Related Articles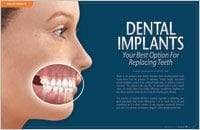 Dental Implants – Your Best Option For Replacing Teeth Dental implants have many advantages over older methods of tooth replacement like bridges and dentures — from the way they function and feel to the way they look and last. Vigorous research has documented and confirmed that in the right situations, dental implant success rates are over 95%. It is no exaggeration to say that they have revolutionized dentistry. They may even change your life... Read Article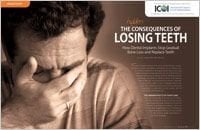 The Hidden Consequences of Losing Teeth For those missing even one tooth, an unsightly gap is actually the least significant problem. What's of far greater concern is the bone loss that inevitably follows tooth loss. Dental implants can preserve bone, improve function and enhance psychological well-being. Learn how implants serve both as anchors to support replacement teeth and preserve bone... Read Article